My Huge New Pick is Camber Energy Inc. (NYSE: CEI)
Good Evcening Traders,

____________________________________________________________________________________
OUR NEW PROFILE IS: CEI
____________________________________________________________________________________
We have a bit of a hot streak going on right now.  We are looking to continue it with a hot new NYSE listed deal that has some liquidity and volatility.
This next one has everything that we are looking for.
Turn your attention to CEI
Barchart is calling CEI a "BUY" Right now.
Barchart Opinion
Composite Indicator
 
TrendSpotter
BUY
Short Term Indicators
 
7 Day Average Directional Indicator
BUY
 
10 – 8 Day Moving Average Hilo Channel
HOLD
 
20 Day Moving Average vs Price
BUY
 
20 – 50 Day MACD Oscillator
HOLD
 
20 Day Bollinger Bands
HOLD
20 – Day Average Volume: 7,886,146
Average: 

40% BUY 

Medium Term Indicators
 
40 Day Commodity Channel Index
BUY
 
50 Day Moving Average vs Price
BUY
 
20 – 100 Day MACD Oscillator
SELL
 
50 Day Parabolic Time/Price
BUY
50 – Day Average Volume: 4,279,458
Average: 

50% BUY 

Long Term Indicators
 
60 Day Commodity Channel Index
BUY
 
100 Day Moving Average vs Price
HOLD
 
50 – 100 Day MACD Oscillator
SELL
100 – Day Average Volume: 3,224,059
Average: 

0% HOLD 
ABOUT CEI
Camber
Energy is a publicly-traded energy company, with a balanced asset base in Texas and Oklahoma, that is actively engaged in the exploitation, development, and production of crude oil, natural gas and natural gas liquids. 

CEI

 is committed to building shareholder value through the accelerated growth of oil and gas operations and the expansion of there asset portfolio.

There exceptional management team has successfully streamlined day-to-day operations and managed cash flows while capitalizing on strategic opportunities.
CEI
 has a property in South Texas that is just Massive, a very 
rich
 estimation of crude oil. this includes 100pct working interest in over an Enormous 7,300 acres primarily producing crude oil. This is just one section of the book of properties they have access into. This Map Shows How Much Reach They Have.
Lets face reality, oil is still the most needed resource and it is going to be highly demanded for years to come. Allot of companies are making loads of revenues from it, and 
CEI
is right in line with a strong leadership in place.
CEI
 just announced the securing of 16 million dollars in financing, which could make them Hot all over Wall Streets Scanners.
If you can get someone to hand you over that much financing, then you must have something very valuable. This is exactly why I want our Eyes and Ears all over 
CEI
 during This Trading Session.
Remember this Symbol 
CEI
 has the ability to see 10, 20 even 30 cent price Swings in Just One Trading Session!!!
The chart alone is screaming Massive Bullish Potential Price Swings.
Focusing on the Core: Areas, Competency and Strengths
Camber Energy continues to exploit the development and production of oil, natural gas liquids and natural gas from its existing and potential asset base. We are following a strategic path of acquiring properties in areas with geology and returns where we can leverage our technical competence, knowledge, and database.
Minimized Geological Risks and Low Entry Costs
Our active development is concentrated in plays with low geological risk, putting us in an enviable position when combined with excellent well control, statistically predictable results, low cost of entry and long-lived reserves.
Oklahoma
Our well-positioned Oklahoma play represents robust potential from our liquids-rich, low-decline reserves. The Hunton formation is a limestone play characterized largely by high-quality natural gas and liquids production. Camber controls approximately 10,000 net acres across Lincoln, Logan and Payne counties, and the majority of our undeveloped acreage is held by production (HBP).
In addition to the drilling locations that we have identified in the Hunton, we are reviewing other potential producing horizons and have the opportunity to expand our leasehold in additional prospective formations to the east.
Oklahoma Delivers Long-Term Opportunity
Our plays in Twin Cities and Coyle Field offer a very attractive, low decline and highly expandable operational interest. With a high BTU content representing 53% of the product mix and 1,200 BOE average daily production as of December 2015, these small, niche assets also represent a strong, long-lived reserve base.
Breaking New Ground in Technically Familiar Areas
Since the acquisition of the Segundo assets in August 2016, the Company has sought an opportunity to expand its de-watering expertise to another productive formation. For more than nine months, the Company evaluated seismic, geologic, and other technical data provided by the Texas Railroad Commission and other industry sources and, in January 2017, acquired a leasehold position in an area of mutual interest (AMI) with a privately-held independent oil and gas company ("Partner"). Multiple acreage targets in the AMI have already been mutually identified, and the Company and the Partner plan to secure additional leases over the term of the agreement.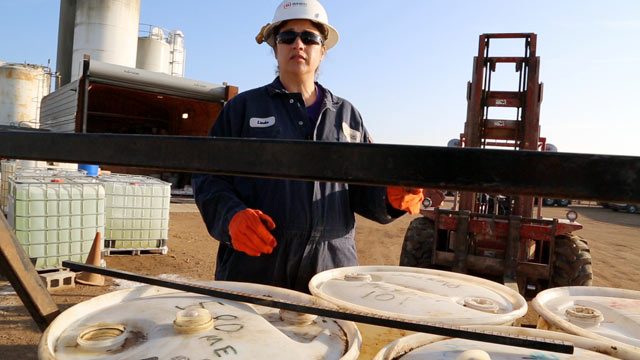 The San Andres is found at relatively shallow depths and has similar attributes to the Company's de-watering Hunton play in Oklahoma. Camber Energy believes it has certain advantages in initiating a development program in the San Andres. Both the Hunton and San Andres are carbonates with relatively high initial water saturations where the production profile appears to be optimized by a de‑watering process which slowly de‑pressurizes the formation allowing fuller depletion of the reservoir. Camber Energy will apply its twenty plus year technical evolution and knowledge of the Hunton to its development and production of the San Andres. The play is lesser known than the nearby Spraberry and Wolfcamp formations in the Midland Basin, largely because the horizontal development of the San Andres has been dominated by private E&P companies to date, many of which are backed by leading private equity firms.
Since its discovery in the mid-1950s, the San Andres formation in the Central Basin Platform has produced approximately 1.9 billion of cumulative equivalent barrels of oil at depths averaging 4,500 feet, according to the Bureau of Economic Geology. Recent wells drilled in the horizontal San Andres have averaged approximately 400 to 700 BOE per day, with the estimated potential to deliver returns ranging 45% to 95% under a WTI oil price scenario of $50/bbl to $60/bbl, respectively.
Significant drilling inventory
We have identified more than 40 drilling locations in the Hunton formation and have Prue Sand development locations under review.
Significant drilling and development potential
Our well-positioned Held by Production (HBP) acreage allows for the aggressive expansion of our working interests via added forced pooling and additional leasing. Additionally, there are further expansion opportunities in formations beyond the existing leasehold.
The CEO is an Industry Player
CEO Richard Azar is an oil and gas industry executive with more than 30 years experience in exploration and production. Mr. Azar serves as President/Co-Founder of San Antonio-based Brittany Energy, LLC and Sezar Energy, LP, independent oil and gas exploration and production companies. From 2007-2009 and again from 2011-2016, he was a director with Petroflow Energy, Ltd./TexOakPetro Holdings, LLC., a private oil and gas company with operations in the Hunton dewatering resource play in Oklahoma. Since 1982, Mr. Azar's companies have explored for, produced and operated over 1,000 wells in Central, South and West Texas and Central Oklahoma, including the development of the Hunton Dewatering Resource play in central Oklahoma.
Azur and team have cut the net loss at CEI from ($2.80) in fiscal year end March 31, 2016 to just ($.78) in FYE 2016. Revenue for FYE 2017 was up 448% and oil production was up 64%. The company produced significant volumes of natural gas, and natural gas liquids in FYE 2017; they produced zero of those products in FYE f2016.
During the first half of 2018, the company plans to drill four new wells adjacent to their existing wells in the Hunton formation in Oklahoma. During the second half of 2018, they expect to drill an additional four to five new wells in this same area, and perhaps one well in the Permian in West Texas.
Azur has stated, that if his plan comes to fruition (and it has so far), CEI will be generating $1 million of EBITDA per month by the end of 2018.
At year-end on March 31, 2017, Camber' estimated net proved crude oil and natural gas reserves were approximately 5.6 million BOE, of which 3.4 million BOE were proved developed reserves. The value of Camber's proved reserves, using standardized industry methods, was approximately $25.4 million at March 31, 2017.
So, who is this "team" at CEI we referred to above? Richard Azar-CEO, has over 30 years of experience in the energy sector and has been involved in drilling over 1,400 wells since 1982. Robert "Bob" Schleizer is the company's CFO, and he has over 30 years of financial and operational experience and is a certified turnaround professional. Donnie Seay-Director is a seasoned industry veteran who has worked with Azar on projects including, the Hunton formation in the Lincoln, Logan and Payne counties of Oklahoma, and the Sam Andres formation in the Permian formation in West Texas.
The "team" is a virtual tripod of seasoned turnaround professionals pushing CEIupward.
Camber Energy Announces Well Production Results
SAN ANTONIO, TX / ACCESSWIRE / October 30, 2017 / Camber Energy, Inc. (NYSE American: CEI)(the "Company" or "Camber"), based in San Antonio, Texas, a growth-oriented, independent oil and gas company engaged in the development of crude oil, natural gas and natural gas liquids in the Hunton formation in Central Oklahoma and on the San Andres formation in the Permian Basin, of Texas, announced production updates today:
The recompletion of the 5th well, in a six well recompletion program in the Coyle Field, located in Payne County, Oklahoma, was completed on the 23rd of October. To date, actual recompletion costs are approximately 45% below estimates, while production levels are significantly above projections. The 6th, and final well in the field, should be completed within the next few days, commencing production by end of month.
"Camber is currently negotiating a renewal of a long term purchase agreement with its midstream buyer for all of the Coyle Field production. The contract is expected to include a stair step incentive to the Company for higher volumes. The Company anticipates realizing a meaningful increase in revenues in the coming weeks and months once the NGL dominate production in this field is produced and sold downstream," stated Richard N. Azar II, the interim CEO of Camber. "The contract renewal should enhance the Company's ability to maximize revenues and incentivizes to actively move forward with a geologically sound drilling program."
The Coyle field is a Hunton formation de-watering program that produces light oil, natural gas and abundant natural gas liquids. Dewatering operations in the Coyle Field began in 1999. According to published reports, remaining gross Proved Developing Producing (PDP) reserves are estimated to be approximately: 23,530 barrels (Mbbl) of oil, 3,500 million cubic feet (MMcf) of gas, and 813,710 barrels of Natural Gas Liquids (NGL). The wells in this field are at an average depth of 4,500 feet, and vary with single and dual laterals per well. Sustained average total wellhead production levels are expected to range from 2.3 to 3 million cubic feet per day (MMcfd) with 1,525 average British Thermal Unit (BTU) gas.
About Camber Energy, Inc.: Based in San Antonio, Texas, Camber Energy (NYSE American: CEI) is a growth-oriented, independent oil and gas company engaged in the development of crude oil, natural gas and natural gas liquids in the Hunton formation in Central Oklahoma in addition to anticipated project development in the San Andres formation in the Permian Basin. For more information, please visit the Company's website at www.camber.energy.
News & Analysis
Publish Date
Headline
Source
Nov 14, 2017
CORRECTION: Camber Energy, Inc. Sets Date For 2018 Annual Meeting of Stockholders
ACCESSWIRE
Nov 13, 2017
Camber Energy, Inc. Sets Date For 2018 Annual Meeting Of Stockholders
ACCESSWIRE
Nov 8, 2017
Camber Energy's Compliance Plan Accepted By The NYSE American
ACCESSWIRE
Nov 2, 2017
360 Blockchain Inc. Announces Execution of Non-Binding Letter of Intent for Proposed 60% Acquisition of SV CryptoLab in Silicon Valley
FSCwire
Oct 30, 2017
Camber Energy Announces Well Production Results
ACCESSWIRE
Oct 23, 2017
Camber Energy Announces New Production Goals
ACCESSWIRE
Oct 19, 2017
Camber Energy offers strategic plan, names Schleizer full-time CFO
Seeking Alpha
Oct 18, 2017
Camber Energy, Inc. CEO Letter to Shareholders
ACCESSWIRE
Oct 11, 2017
Camber Energy, Inc. Receives Noncompliance Notice from NYSE American – Announces Measures to Regain Compliance
ACCESSWIRE
DISCLAIMER:
This newsletter is a paid advertisement, not a recommendation nor an offer to buy or sell securities. This newsletter is owned, operated and edited by IMA, Corp. Any wording found in this e-mail or disclaimer referencing to "I" or "we" or "our" or "IMA" refers to IMA Corp. Our business model is to be financially compensated to market and promote small public companies. By reading our newsletter and our website you agree to the terms of our disclaimer, which are subject to change at any time. We are not registered or licensed in any jurisdiction whatsoever to provide investing advice or anything of an advisory or consultancy nature, and are therefore are unqualified to give investment recommendations. Always do your own research and consult with a licensed investment professional before investing. This communication is never to be used as the basis of making investment decisions, and is for entertainment purposes only. At most, this communication should serve only as a starting point to do your own research and consult with a licensed professional regarding the companies profiled and discussed. Conduct your own research. Companies with low price per share are speculative and carry a high degree of risk, so only invest what you can afford to lose. By using our service you agree not to hold our site, its editor's, owners, or staff liable for any damages, financial or otherwise, that may occur due to any action you may take based on the information contained within our newsletters or on our website.
We do not advise any reader take any specific action. Losses can be larger than expected if the company experiences any problems with liquidity or wide spreads. Our website and newsletter are for entertainment purposes only. Never invest purely based on our alerts. Gains mentioned in our newsletter and on our website may be based on end-of-day or intraday data. This publication and their owners and affiliates may hold positions in the securities mentioned in our alerts, which we may sell at any time without notice to our subscribers, which may have a negative impact on share prices. If we own any shares we will list the information relevant to the stock and number of shares here. We have been compensated up to $10,000 USD to conduct investor relations advertising and marketing for CEI by a third party, Hanover Financial, LLC. IMA's business model is to receive financial compensation to promote public companies. This compensation is a major conflict of interest in our ability to be unbiased regarding the profiled companies. Therefore, this communication should be viewed as a commercial advertisement only. We have not investigated the background of the hiring third party or parties. The third party, profiled company, or their affiliates likely wish to liquidate shares of the profiled company at or near the time you receive this communication, which has the potential to hurt share prices. Any non-compensated alerts are purely for the purpose of expanding our database for the benefit of our future financially compensated investor relations efforts. Frequently companies profiled in our alerts may experience a large increase in volume and share price during the course of investor relations marketing, which may end as soon as the investor relations marketing ceases. The investor relations marketing may be as brief as one day, after which a large decrease in volume and share price is likely to occur. Our emails may contain forward looking statements, which are not guaranteed to materialize due to a variety of factors.
We do not guarantee the timeliness, accuracy, or completeness of the information on our site or in our newsletters. The information in our email newsletters and on our website is believed to be accurate and correct, but has not been independently verified and is not guaranteed to be correct. The information is collected from public sources, such as the profiled company's website and press releases, but is not researched or verified in any way whatsoever to ensure the publicly available information is correct. Furthermore, IMA often employs independent contractor writers who may make errors when researching information and preparing these communications regarding profiled companies. Independent writers' works are double-checked and verified before publication, but it is certainly possible for human errors or omissions to take place during editing of independent contractor writer's communications regarding the profiled company(s). You should assume all information in all of our communications is incorrect until you personally verify the information, and again are encouraged to never invest based on the information contained in our written communications. The information in our disclaimers is subject to change at any time without notice.